Legislative Advocacy Services

JACIL provides legislative advocacy services through an array of services that includes:

Providing educational workshops and individualized trainings covering the various levels and organization of governments and policy makers and identify how laws come to be.

Supporting "People First Aktion Club" which is a Kiwanis sponsored group of citizens with disabilities who give back to their community through civic involvement and advocating for policies that impact the lives of people with disabilities

Coordinating efforts for citizens with disabilities to participate in statewide disability rights conferences and legislative rallies.

Conducting activities that emphasize the significance and impact of disability rights laws to citizens with disabilities.


Voter Advocacy Services

JACIL provides voter advocacy services to people with disabilities through an array of services that includes:

Working with election offcials in JACIL's service area to ensure electoral system compliance with the Americans With Disabilities Act (ADA) & Help America Vote Act (HAVA) laws.

Scheduling and providing educational training on changes in voting laws and equipment.

Helping people with disabilities overcome any obstacles to voting.

Conducting voter awareness campaigns that encourage people with disabilities to vote on a regular basis.

The Sleeping Giants of Illinois Politics!

Approximately 25% of people 18 years and older living in JACIL's service area have a disability----one of the largest minority groups in the United States.

However, based on the 2000 Census, only about 7% of people with disabilities vote on a regular basis.

Because people with disabilities tend to be disenfranchised from the electoral and political processes of Illinois, people with disabilities have been called "the sleeping giants of Illinois politics."
Click these links for contact

information for our legislators: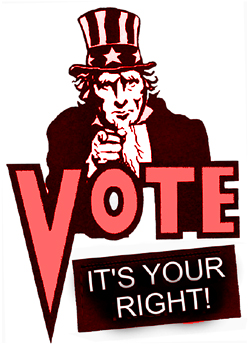 ---

Deputy Registrar Available in
Morgan & Mason Counties

JACIL has Deputy Registrars

available to help people complete

the voter registration or change

of voting address procedures.

They are also available to

help answer questions about

the voting process.

---

Since the 2004 General Election, JACIL has participated in a statewide initiative called the Illinois Disability (I'D) Vote Project which promotes voters with disabilities participating in elections.

Over the past several years, JACIL staff and volunteers have made over 800 contacts encouraging people with disabilities to register and vote.

Election statistics indicate the I'D Vote campaign has made an impact, through increased voter participation, in all four counties within JACIL' s service area.